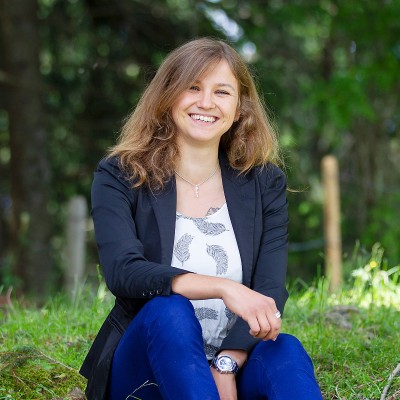 Back in my school days, I always had a keen interest in science, but I must admit that my math skills weren't strong enough for a career in that field. While I considered becoming a vet or a pharmaceutical assistant, I eventually ended up in high school. Chemistry and biology classes quickly became my favorites, and I decided that was the path I wanted to take in my career. Luckily, my math teacher at the time was amazing, and with his help, I managed to overcome my previous difficulties.
Choosing the right path
I chose a technical path through an apprenticeship because I enjoy hands-on learning. Sitting in a classroom and listening to lectures felt too formal for me. I wanted to see, touch, and experience science in a more tangible way. I started at EPFL in 2016, and during my training, I had the opportunity to work with Bloom Biorenewables in its early stages, an adventure I continue today. My focus is on improving and scaling our process to make it greener and more efficient, as well as managing production to meet our customers' needs.
When I started studying chemistry, people around me were quite surprised. I've always had a strong connection to nature and tended to avoid or even reject advanced technologies and industrial products. However, it was easy for me to explain to them that chemistry is the foundation of our world. By exploring and experimenting with it, I could see a potential to move towards my goal of using fewer resources and being more conscious of our consumption, all while enjoying an exciting journey on Earth.
Expanding my horizon
Looking back, I have no regrets about the path I chose. While I still live and work in my hometown, my job has allowed me to meet people from all over the world. It's like going on a journey right at my workplace. These interactions have expanded my horizons and shaped my perspectives in unexpected ways. I've learned to appreciate diverse viewpoints, even when I don't necessarily agree with them. They provide daily insights and encourage me to see the world from different angles. And I've also had the pleasure of sharing with them the best playground in Switzerland: the mountains.
Indeed, beyond my work, I have a deep passion for outdoor activities, especially in the mountains. Activities like climbing, caving, and horseback riding not only bring me joy but also teach me valuable life lessons. They've helped me develop patience, determination, and the wisdom to know when to step back and come back even stronger; skills that I now find essential in my day-to-day work.
Nature isn't just a place for fun; it's a source of energy and a place to recharge. It keeps me in tune with the natural rhythms of the world, providing a refreshing perspective far from screens.
In conclusion, I would like to encourage anyone drawn to a particular subject to dive deep into it. You might discover amazing individuals who can help you reach your full potential. Time, determination, and support can take you further than you might think. And when you feel you've reached the end of one journey, don't stop; you never know what awaits you on the next one. By staying connected to nature and people, you'll always find yourself in a good place. And I hope that, just like me, you can find balance, embrace diversity, and remain connected and inspired by nature while contributing to the development of tomorrow's tools for a better world through science, engineering, technology, and social interactions.
---
Chloe was nominated for the Hidden Figure Award 2023 in the category of Innovation / Startup. Thank you Chloé for your input and for sharing your story with Role Models in Tech! Connect with Chloé on LinkedIn.
Get to know more Role Models in Tech here.